Hello

Spain

Spain is a country for those who want to make the most out of every moment: to eat well, to drink often, to dance a lot. The tapas and sangria are the stuff of legends, the restaurants buzz, and all the locals love to party.

With its great food, rich culture, and nonstop nightlife, Madrid has real character. Barcelona is young and bohemian, artistic and wild. Some cities are beautifully historic, like Granada, Seville and Salamanca. The Mediterranean cities of Valencia, Palma de Mallorca, Alicante and Málaga have awesome beaches and unforgettable parties. We also have accommodation for students in Zaragoza, Córdoba, Murcia, Cadiz and Bilbao.

Capital city

Currency

Calling code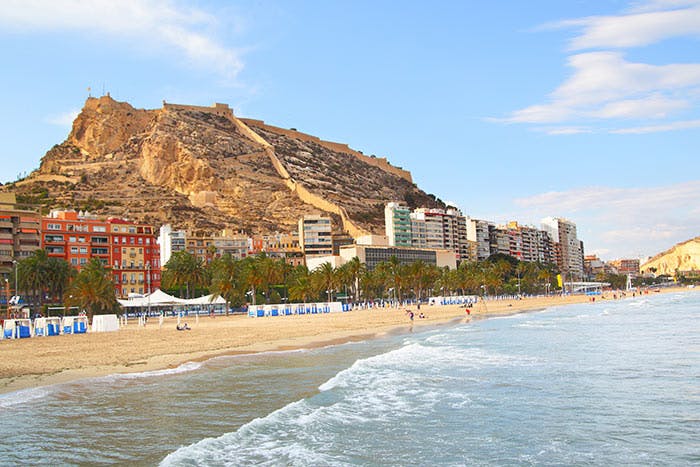 Alicante
One of the most influenced by tourism spanish cities, but don't let that stop you. It's a dynamic, summer-ly vibes all year-round city that will welcome you with open arms. Alicante, or Alacant in valenciano, is a not too big city that will make you feel right at home. The good weather and vibrant nightlife make it the perfect Erasmus destination. Can't live without the sea? We have good news!
Even if the mediterranean coast doesn't offer waves, the beaches of Alicante are perfect for an evening volleyball game or a stroll along the seashore after class. When in the city, make sure to try as many rice dishes as possible, from paella to arroz a banda (rice with fish) and arroz negro (rice blackened by squid ink).
Now that you've read about the fun you can have in Alicante, comes the moment to look for a place to live. If you're looking for a room to rent, a shared apartment or even a studio, make sure to check Uniplaces to find the ideal place for your stay abroad.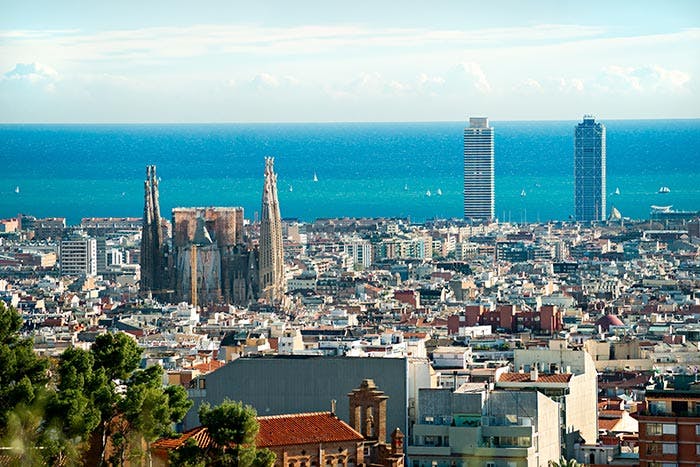 Barcelona
Coming to study in Barcelona is life-changing. The capital of the Catalan region is home to Spain's two best-ranked universities, and is one of the world's most exciting cities. Here, you'll find everything from great architecture, performing arts, and cultural centres, to economic hubs leading the way towards the future.
Studying in Barcelona is more than just that – it's an adventure. The friends you make, the great weather you'll enjoy, all contribute to this city's charm.
Finding accommodation for students in Barcelona is very easy and affordable, especially when you've got Uniplaces to help you book safely!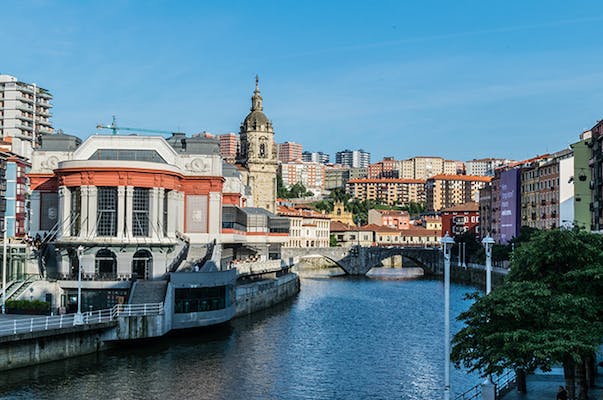 Bilbao
Capital of one of the regions of Spain, the Basque Country, Bilbao (Bilbo in basque) is a city that screams art and culture. Famously known for being home to one of there Guggenheim museums, amongst other architectonic pieces like the Zubizuri, a bridge so cool that you'll always find a excuse to cross it.
Different from other spanish regions, Bilbao is surrounded by green hills and offers a colder weather. But don't let that stop you! It's the ideal student destination for far more than the nightlife. The atlantic coast serves good waves and even though Bilbao does not have beach, you can reach the sea easily from the city center.
Need more reasons to choose Bilbao for your Erasmus destination? At Uniplaces.com you can search for a student room or apartment to rent in the city.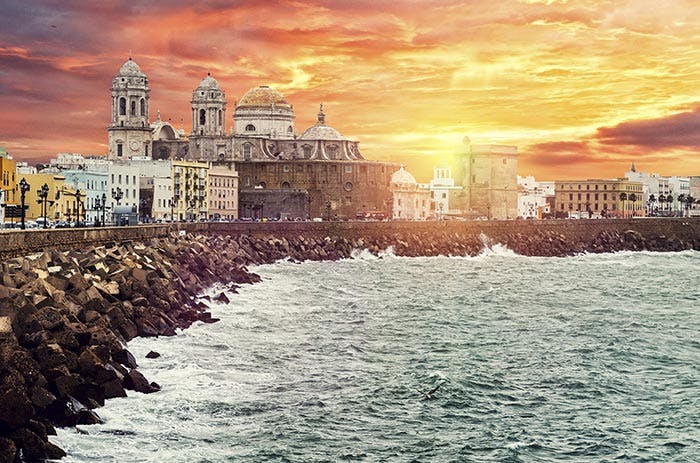 Cádiz
Sun, never ending beaches and the funniest people. An strategic point of the Iberian peninsula, which has been home to different nations throughout its history. At the moment it hosts one of the most important ports in southern Europe and it's the door to the mediterranean.
The good weather and the sea make Cadiz a very attractive city for Erasmus students. In the last few years, the popularity of the city has increased and it has become one of the reference university cities in Spain. The gaditanos, people of Cadiz, will make you feel right at home from day one and will soon invite you out for tapas and night outs. The city has spectacular beaches and tasty seafood, but apart from that it also has one of the biggest Carnivals in Europe. Make sure to be in the city for the event and you'll get to experience it first hand. Fancy dresses and never ending street parties that go on for eleven days. Sounds fun!
If you're looking for accomodation in Cadiz, make sure to check out the places on our website. You will be able to filter and browse through different kind of places: room in a shared apartment, studios and even flats to share, if you're going to the city with friends.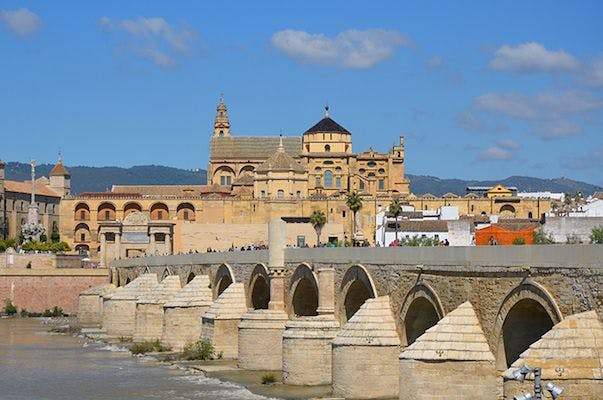 Cordoba
A city so important for the Roman empire and later on a big Islamic center. The Mosque and the Roman bridge build over the river Guadalquivir are proof of it.
Perfect city to get lost and explore, not too big and not too small, which makes it a perfect Erasmus destination, great to meet people and master your spanish. It's not surprising that fiesta is a real thing, starting Thursday night for university students and throughout the weekend. But even more than that, if you're a curious person, Córdoba's strategic position will make it easier to go anywhere in Spain, and also Europe.
If your looking for a student room or apartment in Cordoba, makes sure to check out Uniplaces, where you'll be able to find the ideal accomodation to make your Erasmus experience even better.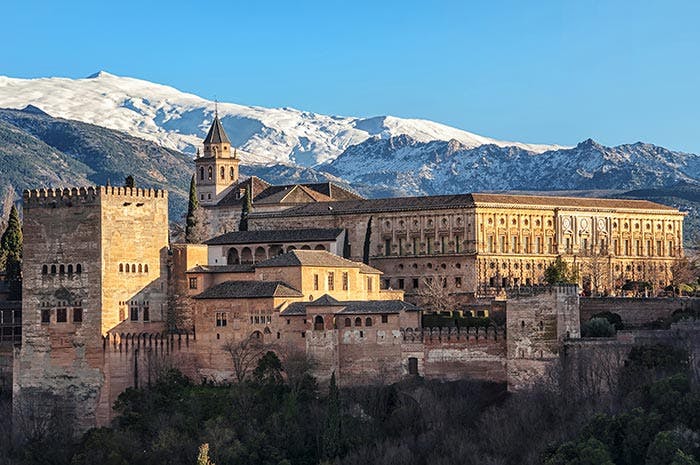 Granada
A city that will surprise you positively and it's quickly becoming popular amongst university students because of the affordable prices. The perfect place to go if you're looking for a more laid back city that offers a great party atmosphere and never ending night outs. With an architecture that will have you wowing and flamenco clubs that will make you want to put your dancing shoes on, Granada might be what you're looking for.
Uniplaces has the ideal room or apartment for students to make your stay in Granada feel like home (or even better!)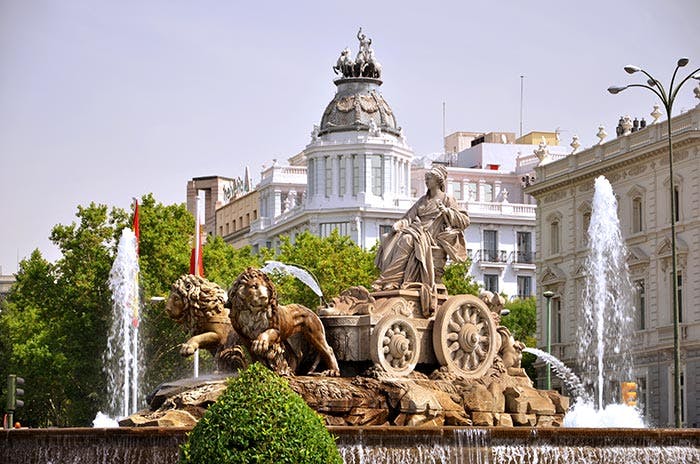 Madrid
Living in Madrid is an incredible experience. Madrid is the best place in the country to savour all that Spanish cuisine has to offer, as well so many other local traditions. Here, you will always have something new to do, as Madrid is one of Europe's most vibrant cities.
Madrid is home to one of the world's most famous museums – the Museo del Prado. However, there are plenty more landmarks and museums to see. Whenever you want to party, the city will be ready for it! Studying in Madrid can't be done without experiencing the tapas the city is known for. Head over to Malasaña or the party barrios near La Latina to experience just how the Madrileño students enjoy their tapas and cañas.
Book your accommodation in Madrid before moving to the city! Uniplaces is here to help!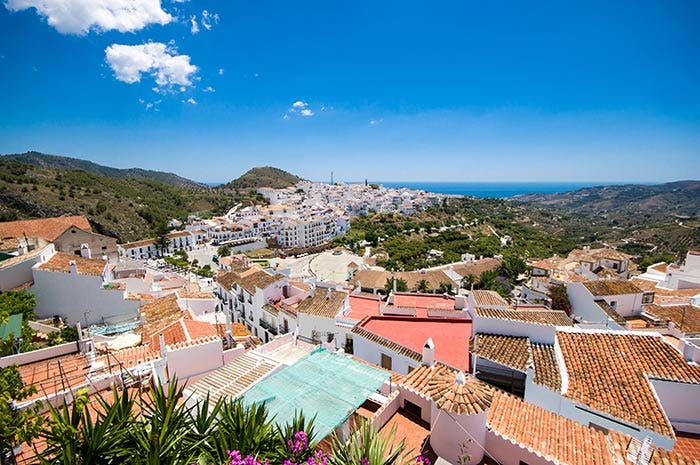 Malaga
Hometown of one of Spain's and the world's most famous artists, Picasso, it's not a surprise that part of the charm of Málaga relies on his heritage and his particular artistic style. A great student city because it's not too big and not too small; perfect for a long night out, tasty tapas and excellent seafood. If you're a person that needs the sea to live, Málaga is the perfect Erasmus destination. Early morning surfing before class or late night runs by the sea, picnics on the weekends and the perfect southern weather will make you want to stay in Málaga forever.
If you're looking for a student apartment to rent or maybe a room in a shared house, head over to Uniplaces, where you can easily browse and filter depending on what you're looking for.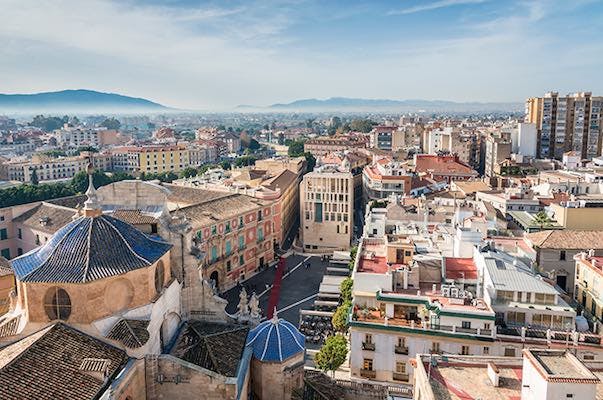 Murcia
One of the sunniest cities in the country and even if it doesn't have sea, it's close enough to the mediterranean coast. It's a laid-back capital of province which makes it a great Erasmus destination. The good weather makes a great night out companion and the weekends out of the city much more enjoyable. After exams season, make sure to get your friends together and visit the Pink Lagoon.
Murcia's location makes it easy to travel around Spain. It's close to another university city, Valencia, and a tourists favourite, Cartagena.
If you're looking for accommodation, you've come to the right place.On our website you'll find the ideal place for your. A studio, room to rent in a shared apartment and even entire flats. Head over to the website and start browsing.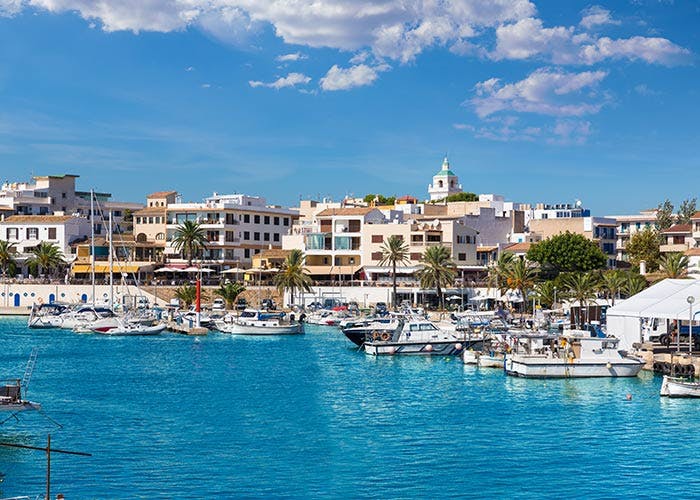 Palma de Mallorca
Even if Mallorca is an island, it has and offers a great variety of option for local and international students. Palma de Mallorca, normally just called Palma, is the capital of the island and the biggest city of the Balearic islands.
From a Gothic Cathedral and narrow streets that will take you back to the medieval times, to bohemian neighbourhoods and amazing restaurants and pubs. Palma has a bit of everything and generally a good mediterranean weather, which makes it a great Erasmus destination and a very student friendly city. If you need the sea to live, this is your city! If you're a party person, you for sure know about Ibiza. Good news is, the european capital of party is just 2 hours away by ferry, but even better news, Palma is an amazing place to party as well! Another important thing to have in mind is food. Make sure to try all the traditional things, specially pan con sobrasada, frit de matances and llonguet (typical bread from the city).
If you're looking for a room to rent, a studio or a shared apartment, make sure to check Uniplaces You'll be able to filter and choose between a lot of options.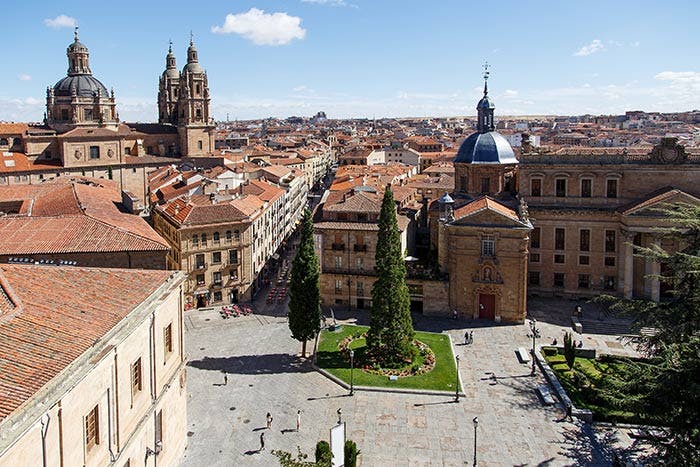 Salamanca
Salamanca will take you back in time because of its magical sights and architecture. Home to one of the oldest universities in the world, Universidad de Salamanca, it is the main reason why students make the 20% of the population of this spanish city, which is around 228k.
Apart from a great destination to complete your studies or do your master's degree, if you're looking to learn spanish, there is not better place than Salamanca. The Salamantinos (people from Salamanca) have the purest spanish accent, so make sure to head out for tapas and cañas (beer) like a true spaniard, and soon enough you'll be fluent in the language.
When looking for student accommodation in Salamanca, you can browse on Uniplaces where you will find rooms and apartments for rent.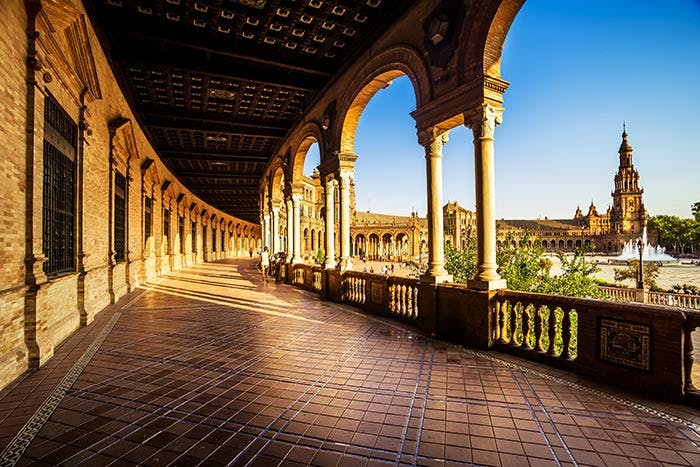 Sevilla
Seville is the perfect city for those looking for a year round warm weather. It has the culture, the history and the funniest people you'll cross paths with. From enjoying drinks and tapas on the streets, to Erasmus parties and student events. This is the place to go if you're a very social person.
Want to see and experience Sevillanas, maybe even try to dance a bit? Have a chance to dress up and go out like a true Sevillano? Then make sure to stay until and throughout La Feria de Abril, which takes place after another iconic celebration, Easter (Semana Santa). You'll get the chance to feel the history and the culture of the south of Spain more alive than ever.
We all love to go out, but at the same time, we need a place to live. Browse in the Uniplaces web to find your ideal student room or apartment while your Erasmus stay in Seville.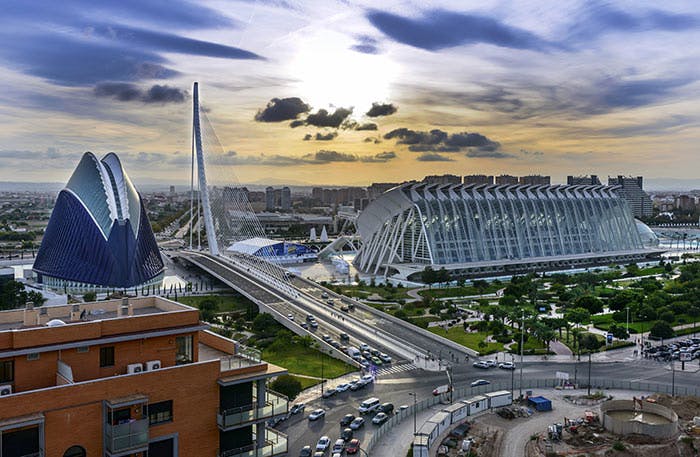 Valencia
You have to go to Valencia if you love the sea! This typically Mediterranean, coastal city is perfect for international students. The city combines local tradition with modernism really well.
Studying in Valencia, you'll be next to some of the Europe's finest beaches, with great weather almost year-around. Make sure you make the most of this exotic city's healthy fish-based cuisine!
Looking for accommodation in Valencia? Let us help you find the perfect place for you!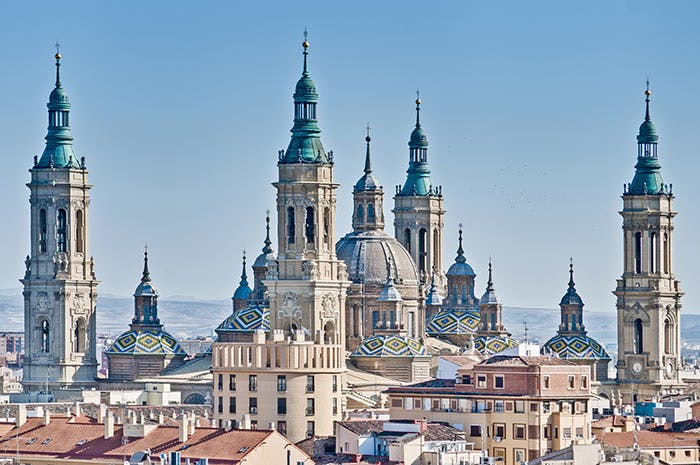 Zaragoza
A city, that even being the fifth biggest in Spain, has managed to stay in the shadows. Hometown of one the most recognized spanish painters, Francisco Goya, Zaragoza also has a bit to showcase of the Arabic era, but we should really highlight the Basílica del Pilar and the Ebro river, both symbols of the city.
Even if big, it's a great destinations for Erasmus and international students. Universidad de Zaragoza is one of the best universities in Spain and one of the main reasons why the city has a young atmosphere yearound. It's also great that is just a three hour train away from both, Madrid and Barcelona. Make sure to be in town for Fiestas del Pilar (October 12th), it's the biggest event in the city. Big parades, flower offerings, concerts and, of course, food and drinks.
If you're looking for accommodation in Zaragoza, make sure to check our website. You can look around on a map and filter according you your needs and requirements. If you're looking for a room to rent, an apartment to share or even an studio, Uniplaces is the place to do so.